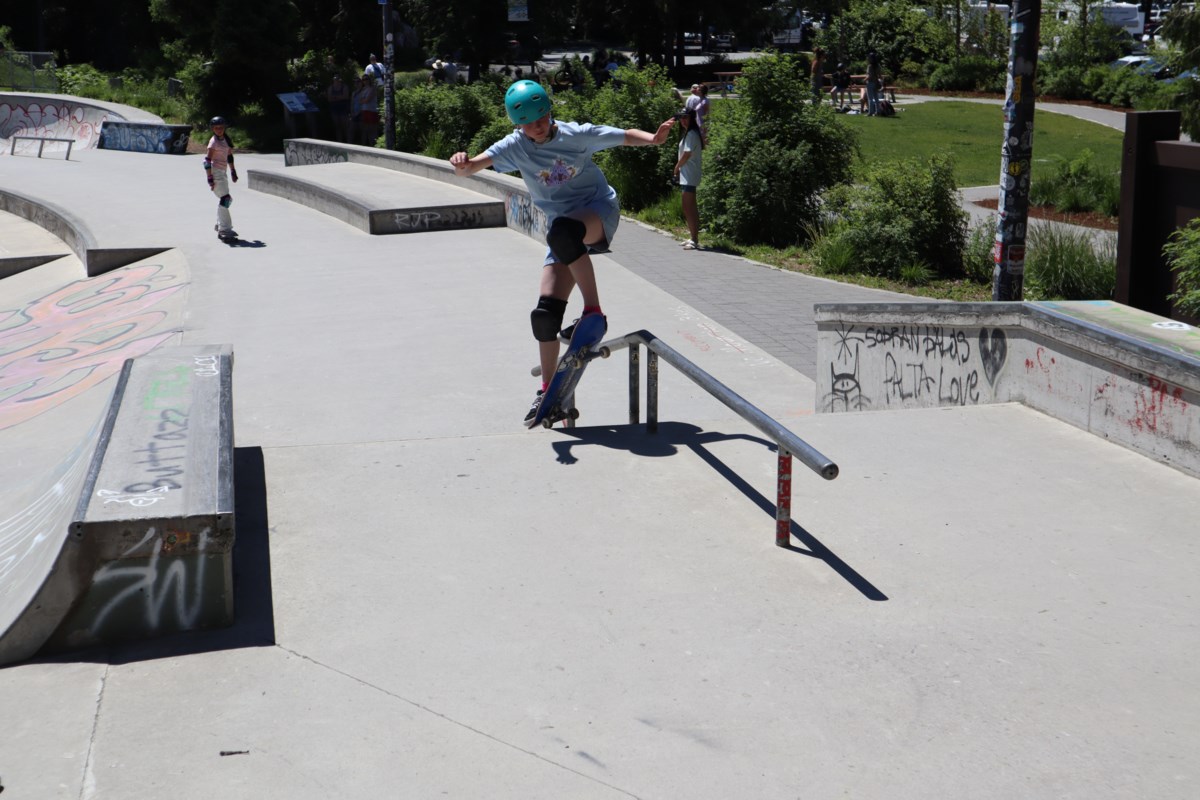 Approximately 35 U18 skaters from the Sea to Sky were on hand to compete at the Whistler Skate Park
At last year's inaugural Mayhem in the Mountains skateboard competition, it was the weather causing all the mayhem.
With blue skies and 25 C weather for this year's event, held at the Whistler Skate Park on Saturday, June 25, Whistler Skateboard Club (WSC) creative director Sam Weston was expecting a lot less chaos this time around.
But with the jam-style format that had all skaters in each category on the park at the same time, the mayhem was back in full force.
However, other than one big crash in the U13 girls category, Weston could not be happier with how this year's event played out, especially after switching from a Pro-Am to a U18 format.
"I think we escaped all right. Kids had fun. Definitely some close calls. But hey, the mayhem was back, and the skating was great," said Weston.
"At first, I thought it'd be difficult, not to bring the pro [category] back, but seeing how stoked the kids were, especially the first weekend of their summer break, I was stoked to see that. So overall, it was a good event … I think it'd be rude not to do a third annual Mayhem in the Mountains next year."
One added benefit of the switch to the skate jam style, as opposed to last year's individual format where each skater had the park to themselves for a 45-second run to impress the judges, was a less pressure-packed environment where the skaters could focus on completing their tricks instead of worrying about each individual mistake, according to men's open winner Ryder Riekert.
"It was great. It was super fun. I think they ran it very well," he said. "All the jams were sick. I think sometimes it's better if we all go at once and it's a little bit less pressure on the lines."
Rounding out the top three in the men's open category were Presley Huska and Robbie Tribe in second and third, respectively.
On the women's side it was nine-year-old Emily Ma who took home the top prize of $150 thanks to well executed tricks like a lipslide and a slash grind.
But despite Ma's stellar performance, one of the day's most exciting moments was when second place finisher and Real Wild Kittens coach Amalia Pelchat landed her first-ever board slide during the competition.
"I was so stoked to do it, especially in contest. It was crazy, it was amazing," said Pelchat, who was taking part in her first competition. "I didn't know what I was going to do in the contest. And then I was like, 'hey, I just want to try it.' I've been wanting to do it for so long so it was a perfect time to do it. I'm stoked."
Rounding out the top three for the women's open was Molly Goodwin.
On the U13 side of things, the Heise sisters, Olive and Isla, took first and second, respectively, with Devun Goodwin taking third. Meanwhile, Seb Eckstein, Kayne Graceo and Maddox McReynolds finished first, second and third, respectively, in the U13 boys category.
"Honestly, the competition level was higher than expected, especially in the U13 categories—those gromms were ripping," said Weston. "Can't wait to see them skating in the open category in the years to come."
Each of the top three boys and girls in the U13 division received a new deck and a hat as their prize.
Overall, with the $50, $100 and $150 prizes for first, second and third place in both men's and women's open, as well as the stacks of $5 bills being handed out during the jam for any trick that impressed the judges, the WSC doled out more than $1,500 in prize money, not to mention the various hats, clothing and sunglasses that were also awarded throughout the day.
Next up for the WSC will be the start of its weekly summer skateboard camps for Sea to Sky youth followed by a new Pro-Am competition the club is hosting at the Squamish Skate Park on July 16.