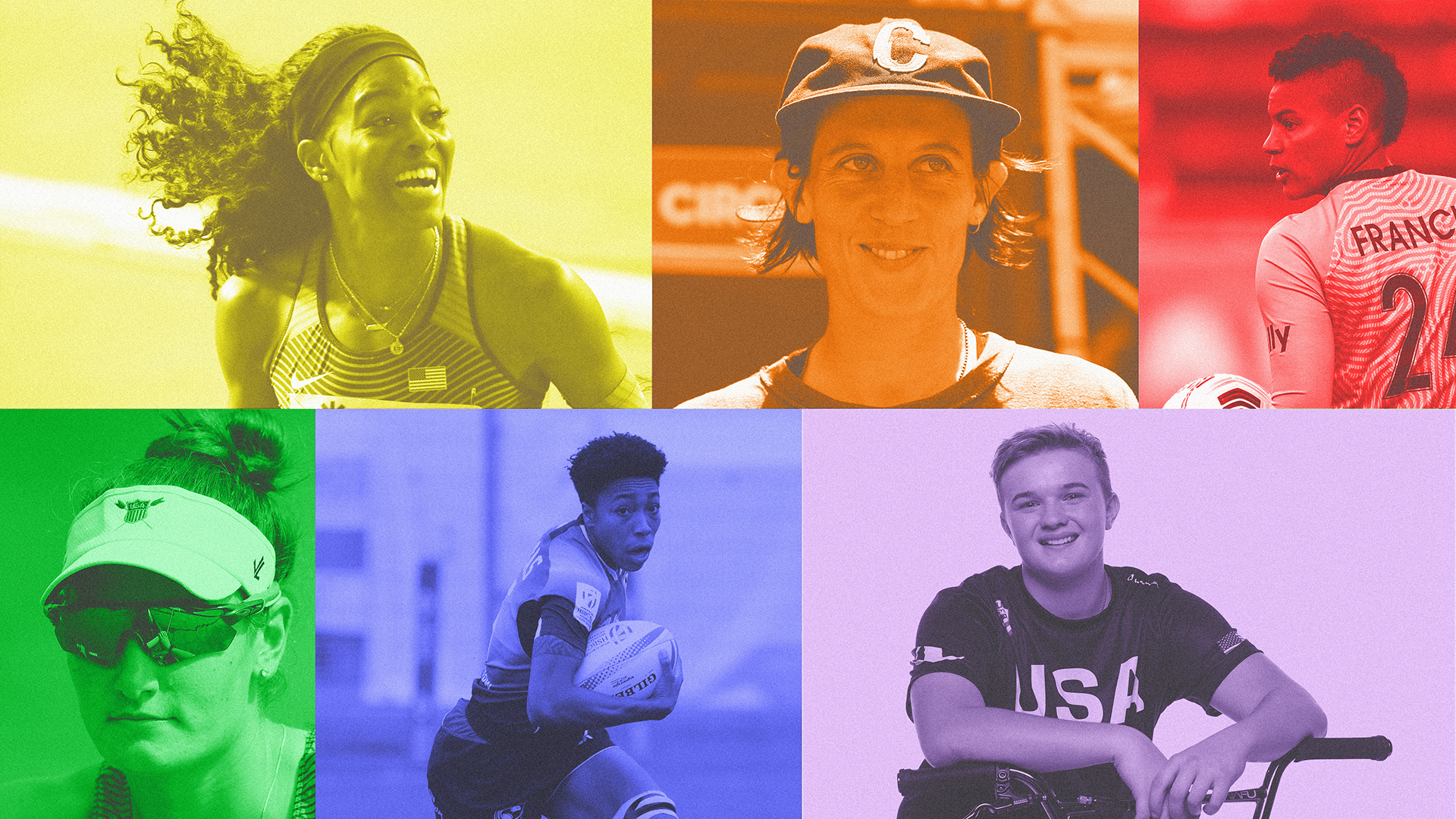 All that said, these are set to be the queerest Games on record, with more than 160 openly LGBTQ+ athletes competing. According to numbers compiled by Outsports, the United States has the most out athletes at these Olympics: 30, which is one-fifth of all the out athletes attending the Games. Outsports also found that openly queer women at the Games will outnumber openly queer men by about a 8-1 margin, with women's soccer having more than 40 openly queer players across all the countries (who's surprised?). 
Here is a list of all the known out queer and trans Team USA Olympic athletes. I'll be rooting for everybody gay. Now you can, too.
3×3 Basketball
Stefanie Dolson: Dolson plays in the WNBA as a member of the Chicago Sky and credits the league with helping her come out; she has said she never considered dating women until she entered the W. Big Mama Stef, as she's known on Instagram is always dancing—when she's not posting pictures capturing her femme realness. She's also been extremely outspoken when it comes to violence against the trans community.
5×5 Basketball
Sue Bird: Bird is probably one of the most famous gays on this list. A member of the WNBA's Seattle Storm, she came out publicly in 2017, after she started dating soccer star Megan Rapinoe (see below). They posed naked together in the ESPN Body Issue, they posed nearly-naked together in an issue of GQ, and now they're engaged. Together, they are the most dominant couple in sports. Bird will be competing in her fifth Olympics, aiming for a record fifth consecutive gold medal.
Chelsea Gray: Gray is a member of the WNBA's Las Vegas Aces and is known as the Point Gawd. She married her wife, Tipesa, in 2019. For Pride 2020, the two hosted a video series about queer history.
Brittney Griner: Griner, a member of the WNBA's Phoenix Mercury, has said she's been open about her sexual orientation since high school. In 2013, after being drafted into the W, she spoke about the homophobia she experienced as an athlete at Baylor University. She posts a lot of cute photos on Instagram with her wife, Cherelle. This will be Griner's second Olympics.
Breanna Stewart: Stewart is a WNBA MVP as a member of the Seattle Storm, and one of the most decorated players in women's basketball. She will be competing in her second Olympics in Tokyo, and she got engaged to her girlfriend, professional basketball player Marta Xargay, in May. They also post very cute content together on TikTok.
Diana Taurasi: Taurasi joins Bird in her record-breaking fifth Olympics and is a member of the WNBA's Phoenix Mercury. Taurasi is married to her former Mercury teammate Penny Taylor. Taurasi is known for sinking three-pointers and also for always having something to say to the refs (including her now-infamous, "I'll see you in the lobby later"). During quarantine, she got drunk and made very funny Instagram content with Sue Bird and Megan Rapinoe.
BMX Freestyle
Perris Benegas: Benegas came out as gay publicly in May of this year via a post on her Instagram account. She will be competing in her first Olympics and also has a cute dog, a golden retriever named Kiah.
Hannah Roberts: Roberts married her wife, Kelsey Miller, earlier this year in a small ceremony. The two have had a bit of a whirlwind year—they bought a house together in October 2020, got engaged the next month, and got married just five weeks later. Roberts will be making her Olympic debut in Tokyo (as will the sport itself).
Chelsea Wolfe (reserve): Wolfe will be traveling to Tokyo as an alternate member of the BMX Freestyle team. This makes her the first openly trans athlete to make it to the Olympics with the U.S. "It's honestly slowly processing little by little how exciting that is," Wolfe told Outsports recently. "I don't think I've fully wrapped my head around how exciting it is, and how incredible it is to make it so far with this wild dream of mine that I've dedicated my life to for the past five years."
Boxing
Rashida Ellis: A native of Lynn, Massachusetts, Ellis hasn't spoken much about her sexual orientation. But she does have a rainbow flag emoji in her Instagram bio, which I'm taking as a clear sign. She's a top-ranked lightweight boxer in the U.S. and Tokyo will be her first Olympics. 
Equestrian
Nick Wagman (reserve): Wagman is a reserve, but I'm rooting for him; when asked to name the love of his life, he cited his husband Kurt—who is an absolute silver fox —and riding horses. 
Rowing
Kendall Chase: Let's get this out of the way—the U.S. women's rowing team is very gay, as you'll see below. Chase, who competes in the women's four, is active on TikTok, where she posts regular gay rowing updates.
Gia Doonan: Doonan competes in the women's eight. Last October, she posted a defiant message on Instagram: "Due to the increased homophobia directed towards me recently and also in the country, I have never felt more empowered," it said, under a photo of Doonan holding hands with her partner. "I am so glad these h8ers are thinking about us more than ever. I mean I understand, hating on other people helps distract you from your own self loathing."
Meghan O'Leary: O'Leary competes in the women's quadruple sculls. She has written that, because she was raised in a conservative environment in the South, realizing she was gay "was one of the toughest things I have ever faced" and that "gripping self-hatred and shame" kept her in the closet for years. She came out publicly at the 2016 Olympics in Rio. 
Ellen Tomek: Tomek also competes as a member of the women's quadruple sculls team. She is an 11-time U.S. Rowing National Team member and is heading to her third Olympics.
Julian Venonsky: Venonsky is the only out male rower on this list. He was out in college at the University of California, Berkeley, so he has always been out as a member of Team USA. He is the coxswain for the men's eight, an Athlete Ally ambassador, and owns a cat named Harvey Melk. The cat has its own Instagram account, you're welcome.
Rugby
Alev Kelter: Kelter is heading to her second Olympics. Earlier this year, she shared an adorable Valentine's Day post with her girlfriend, and they are both hotter than any couple has a right to be. 
Kristen Thomas: Thomas posts quite a bit of queer content on her Instagram, including some recent stories in which she showed off photos of herself as a "baby gay" in 2010. Tokyo will be her first Olympics. She also has the best abs I've ever seen. 
Skateboarding
Alexis Sablone: Sablone partnered with Converse to release a Pride sneaker this year, with a small rainbow tag on the back and the transgender symbol on the tongue. "A pride shoe stands for something powerful, and, as a queer person myself, it's very personal," she said. "A decade ago, the concept of a 'pride shoe' didn't exist. There was so much less visibility and support for the queer community." The goofy-footed skater will be a member of the first-ever Olympic skateboard team.
Alana Smith: Smith is non-binary, which likely makes them the first openly non-binary athlete to compete in the Olympics for Team USA. They also posted some super cute content for National Coming Out Day in October. 
Soccer
Tierna Davidson: The member of the NWSL's Chicago Red Stars was just 13 when Megan Rapinoe came out as gay. The 22-year-old player cites Rapinoe's influence on her own ability to be open about who she is. "She's been able to open up about her personal life, so why can't I," she told All For XI. "And I think that hopefully the ball continues in the right direction and younger people after me will be able to look to generations between me and Megan and say it's OK to be honest with yourself and be honest with the world."
Adrianna "AD" Franch: French is the goalie for the USWNT, as well as for the NWSL's Portland Thorns. She married her wife in 2019 and looks very, very good in a suit.
Kelley O'Hara: In case you missed it, O'Hara rather famously kissed her girlfriend after winning the World Cup in 2019.
Megan Rapinoe: Rapinoe is Sue Bird's fiance and a New York Times bestselling author. She plays for the NWSL's OL Reign, in addition to being on the USWNT.  In 2012, she was the first prominent women's soccer player to come out as gay, and in 2016, she took a knee during the National Anthem in support of Colin Kaepernick and Black Lives Matter. This will be Rapinoe's second Olympics.
Softball
Ally Carda: Carda is a pitcher who will be heading to her first Olympics, as the sport is returning to the Games after a 12-year absence. She also happens to be dating former Olympian Kelly Kretschman.
Amanda Chidester: Chidester could be playing against her fiance in Tokyo. She is engaged to Mexico's Anissa Urtez. Urtez shared the news on her Instagram last November, and their feeds are full of photos of the two together. It will be Chidester's first Games.
Taylor Edwards (reserve): Edwards is an alternate whose Instagram bio encourages followers to "be you," followed by the rainbow flag emoji.
Haylie McCleney: McCleney came out publicly in 2019, saying she was "over-the-moon happy." The outfielder is engaged to her long-time girlfriend, Kylee Hanson, who she met playing softball when they were both 17. The two dated for two years before coming out to their families. 
Swimming
Erica Sullivan: Sullivan is heading to her first Olympics to compete in the women's 1500. "At the end of the day, I can do nothing but own it and be myself," the 20-year-old swimmer said last year. "And if that can inspire anyone else to come out, that's just amazing to me. I hope I can be a good role model to them."
Track and field
Erica Bougard (heptathlon): At the 2019 the IAAD World Athletics Championships, held in Qatar, where homosexuality is criminalized, Bougard made news by competing in rainbow spikes.
Raven Saunders (shot put): Nicknamed "Hulk," Saunders will be heading to her second Olympics. "Being gay especially means happy, and that's one thing I have started to really take pride in," she recently told GO Magazine.
Wrestling
Kayla Miracle: When Miracle heads to Tokyo, she will make history as the first out LGBTQ+ wrestler in Olympic history. On Instagram, she posts cute pictures with her girlfriend mixed in with photos of her wrestling highlights.
Britni de la Cretaz is the author of the forthcoming HAIL MARY: The Rise and Fall of the National Women's Football League. Follow them on Twitter here.