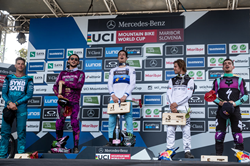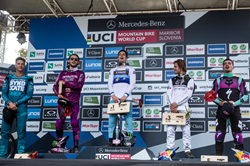 "I was just trying to do a good run for myself, and it paid off. I'm really lucky! The track was hardback from top to bottom, so having a good setup on the bike was key. I knew what to do." – Loris Vergier

MARIBOR, Slovenia (PRWEB)
August 17, 2021
He did it again! Monster Energy congratulates Loris Vergier on taking first place in the Elite Men division at the Mercedes-Benz UCI Mountain Bike World Cup in Maribor, Slovenia, this weekend. With a 1.755-second lead on the next racer, the 25-year-old from Cagnes-sur-Mer, France, claimed the win in the Elite Men division with a 3:05.064 total time.
Vergier was joined on the podium by his Monster Energy teammate, 20-year-old Monster Energy rider Thibaut Dapréla from France in second place with a 3:06.819 finish. In the Elite Women division, Monster Energy team rider Camille Balanche took third place with a 3:35.08 finish time.
Maribor welcomed the world's best downhill racers with a natural track measuring 2.5 kilometers in length. For this weekend's race, the iconic downhill course in the heart of the Pohorje Hills was updated with a new finish section. Adding to the challenge, race conditions were extremely dry and dusty. With temperatures soaring well into the mid-90s, the track was hardpacked. Giant braking holes gave way to blue groove corners and deep berms filled with moon dust, while the legendary rock garden once again took center stage as a key point.
Monster Energy's Vergier dropped into the race fresh off winning the European Downhill Championships, also contested in Maribor, the previous weekend. Continuing his dominance, the Flying Frenchman emerged in first place from the qualifiers and held on to the top spot in the final. When all was said and done, Vergier finished his run with a 3:05.064 total time, putting 1.755 seconds into fellow Monster Athlete and series leader Daprela.
"I was just trying to do a good run for myself, and it paid off. I'm really lucky! The track was hardback from top to bottom, so having a good setup on the bike was key. I knew what to do," said Vergier upon taking first place in Maribor this weekend.
This weekend's win adds to Vergier's dominant record at Maribor. "The craziest thing is since we came here, five times out of six, I've won here. I guess the track suits me a bit so I'm having fun! I'm starting to wonder if it's just the place," said Vergier. Before taking home the European Championship title last weekend, the Frenchman earned two World Cup wins in October 2020 at Maribor.
Also claiming a spot in the top three, 20-year-old Monster Energy rider Dapréla from France finished in second place. With a 3:06.819 finish time, the rookie continued his strong run after already claiming the win at the World Cup in Les Gets, France, in July.
"I'm so stoked. It's amazing. Big points, and second again I can't believe it!" said Dapréla. "The track was crazy, so destroyed. I loved it! I worked so hard in practice to try and keep it smooth."
Dapréla is the 2018 and 2019 Junior World Cup Champion. On the strength of taking second place in Maribor, the young rider leads the UCI Mountain Bike World Cup with 590 points and a 237-points lead on Monster team rider Troy Brosnan from Australia in second place (353 points). Vergier is currently ranked fourth with 316 points.
Monster Energy team rider Luca Shaw broke back into the Top Ten with a seventh-place finish, which bodes well for the American heading into the World Championships in Italy in two weeks. The young pro from San Francisco, California, finished the challenging track in 3:08.799.
"I'm super stoked. I finally had a really good run where I was pushing the limit. I made little mistakes, but I just kept charging. I'm really happy with how I rode, and seventh place is a great step in the right direction," said Luca Shaw
In the Elite Women division, Monster Energy rider and 2020 UCI Downhill World Cup Champion Camille Balanche claimed third place. With a 3:39.103 finish time, the 31-year-old from La Chaux-de-Fond, Switzerland, took another podium spot after recently placing third place in the UCI Mountain Bike World Cup Downhill Race in Les Gets, France.
"Third in the race is amazing. I was struggling so much on this track, so I'm stoked," said Monster Energy's Balanche. "All the compressions are big, and I was struggling with my legs to absorb everything. It was a bit flat and dry, and I prefer it when it's steep and wet. Then I found some good bike setup and I built confidence and had some fun. I'm proud and relived that I made it down!"
Balanche now commands second place in the Elite Women overall standings with 560 points, tied with Nicole Myriam from France with the same score.
Download photos for editorial use.
What's next on the downhill MTB schedule? Racers now take a week off to lick their wounds and get ready for one of the biggest races of the season, World Championships. Taking place this year on the Black Snake track in Val Di Sole, Italy, racers will be in for another punishing event in the steep rocks that made that venue infamous. Afterwards, the UCI Mountain Bike World Cup will commence in Lenzerheide, Switzerland, from September 4-5, 2021, before the World Cup finals in Snowshoe, United States. Stay tuned!
For more on Loris Vergier, Thibaut Dapréla, Camille Balanche, and our team of mountain bike athletes, visit http://www.monsterenergy.com. Also follow Monster Energy on YouTube, Facebook, Instagram, Twitter and TikTok for exclusive updates from the 2021 MTB season.
###
About Monster Energy

Based in Corona, California, Monster Energy is the leading marketer of energy drinks and alternative beverages. Refusing to acknowledge the traditional, Monster Energy supports the scene and sport. Whether motocross, off-road, NASCAR, MMA, BMX, surf, snowboard, ski, skateboard, or the rock and roll lifestyle, Monster Energy is a brand that believes in authenticity and the core of what its sports, athletes and musicians represent. More than a drink, it's the way of life lived by athletes, sports, bands, believers, and fans. See more about Monster Energy including all of its drinks at http://www.monsterenergy.com.