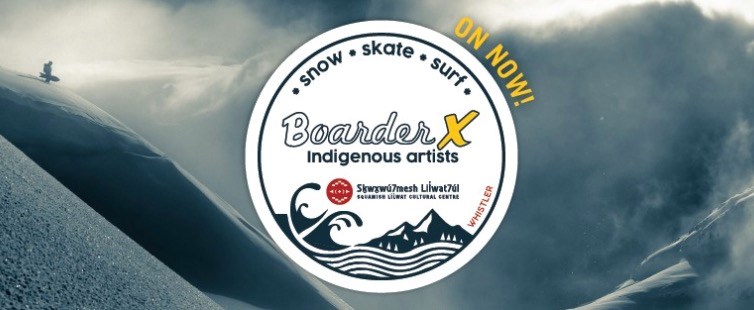 Step into Boarder X, the unique display at the Squamish Lil'wat Cultural Centre (SLCC), and the very first thing you're struck by is dynamic colour. 
There are intense shades originating from skateboard decks, splashes of florescent colour beaming from canvases, and even intense screens transferring action from the outdoors. 
Borrowed from the Winnipeg Art Gallery—with one regional addition—the program is the ideal suitable for summertime 2021. It may be enjoyable and younger—showing how Indigenous individuals are linking to their land through skateboarding, snowboarding, and browsing—however it's likewise filled with essential messages, a few of which are especially poignant as the nation grieves the deaths of 215 property school kids.  
"The SLCC really wanted to bring in Boarder X because it has a connection between Indigenous people across Canada and how they interact with their territory," states Alison Pascal, SLCC manager. "Here we're considered to be people of the land and our culture is a reflection of the land. As you can see, it's been changing and changing over the years and we've been kind of adapting to it and involving new parts or new materials into our culture. And that also means that how we interact with the land is changing. A lot of our people are turning to snowboarding, skateboarding, and surfing to connect to it. What we really wanted was to bring in these elements to connect with the youth in our Nation." 
Pascal just recently explored Pique through the display—which is running up until October 2021. Here are simply a couple of highlights. 
Indigenous Life Sport Academy Skateboard Art Project
Formerly referred to as the First Nations Snowboard Team, the ILSA job, which functions as a charity event for the not-for-profit company, is the regional addition to the program. 
The skateboard decks on display screen, painted by Aaron Nelson Moody, Rick Harry, Carlos Soriano, Nalaga Avis Obrien, Trevor Mackay, Carrielynn Victor, and James Dalton, among others, are going to be auctioned off online from June 11 to June 21, which is both Indigenous People's Day and Go Skateboarding Day. 
"They're done by renowned artists," Pascal states. "The top one is one of my favourite artist and his name is Tawx'sin Yexwulla, Aaron Nelson Moody of the Squamish Nation."
For more, or to try when it opens, check out lifesportcanada.org/fundraiser. 
Bracken Hanuse Corlett, Launch Ramp
At the entryway to the remainder of the display sits a little beautiful red, white, and sand-coloured skateboard ramp with a figure embellished on it. 
Pascal describes artist Bracken Hanuse Corlett yaps about how skateboarding was an outsider sport when he was a kid on Vancouver Island and how he and his buddies frequently utilized to develop their own ramps.
For this piece "he chose the skull, as opposed to some of the more traditional Northwest Coast art because when the potlatch ban came, some of their art was misinterpreted as menacing or evil," Pascal states. "It's one of the things that contributed to the ban, so he wanted to put it front and centre so people remember that part." 
Michael Langan and Kent Monkman partnership, Colonialism Boards
Arguably the most poignant pieces in the display, the partnership consists of a set of 5 skateboard decks with a scene of kids being ripped from their moms and dads and sent out to property school. 
One set consists of telltale scratch marks of a board that's been ridden and the other remains in initial condition. 
"It's poignant today because there was the recent findings of the unmarked graves, but it also speaks to all of the trauma and the intergenerational trauma that all Indigenous people face and how we do self-healing and growth. By working on ourselves we can start to work away at that so that we don't need to be stuck in those hurtful cycles. We can work on it and grow from it. And that's why he wanted to show the skateboards used. You can see some of the images are starting to be taken over in that we can take that back and replace it with something beautiful and helpful and spiritual and healing for ourselves and our family," Pascal states. 
Amanda Strong, Maashchii (to move) 
One of Pascal's preferred pieces in the program is an interesting sculpture portraying a lady mid-kick flip on a skateboard. 
"In this piece, she's addressing the issue of feminism in Indigenous people's lives," she states. "In Indigenous cultures, women are the matriarchs of the family, so a lot of the knowledge and a lot of the rights come down through the mother as opposed to current society, which is patriarchal."
Aside from successfully communicating motion, the background of the scene likewise consists of political posters embellishing a wall of a street. 
"This piece really highlights the strength of Indigenous women and also the idea that gender isn't a fixed issue. Here she's considering herself gender fluid. She was questioned a lot, as a young person that skateboards, 'Is she a boy? Is she a tomboy? What's going on?' And she's just breaking free of all of those in being a skateboarder." 
Mark Igloliorte, multimedia 
Igloliorte's piece in the program includes 2 screens playing brief movies. On one side there's a skateboarder and on the other a kayaker practicing a roll. Between the 2 screens, framed in glass, is a skateboard with the style of a kayak on it. 
The Inuk artist presently resides in Vancouver and teaches at Emily Carr University of Art and Design. 
"He's comparing skateboarding and kayaking and how you can see how the two movements are very similar," Pascal states. "He's really interested in both sports being self-propelled. So it's a way of transportation that relies on himself. He's also comparing different sports from his Northern home—which would be skateboarding—and activities that he would do in Vancouver." 
The SLCC is presently open Thursday to Sunday from 10 a.m. up until 5 p.m.